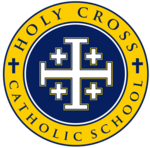 Students from all faith backgrounds are welcome, and most families are parishioners from our parish, along with St. Nicholas in New Market, and Most Holy Trinity in Veseli. The school enrolls students in grade Pre-K through 8th Grade and is located in Webster, MN. Students experience a well rounded education including hands on science, music, art, and faith formation. We are implementing many great C-STEM opportunities in learning!
Mass is held weekly on Wednesdays at 8:15 am at the school and occasionally at one of the participating parishes. Adoration of the Blessed Sacrament is held at the school on the first Friday of each month.
For more information, visit their website at holycrossschool.net
Holy Cross Catholic School students
are joyful, faithful, successful!
Our Mission
Holy Cross Catholic School is dedicated to excellence in education and is committed to helping each student grow into the person that God has called them to be. Our values-based, comprehensive curriculum includes innovative academics, mastery of skills and content, spiritual and character development, joyful service, and active participation in the mission of the Church. 
HOLY CROSS CATHOLIC SCHOOL NEWS
Holy Cross Catholic School is celebrating high achievement and tuition incentives! Our parish community's school is 1 of the 79 Catholic schools in the Archdiocese and is one of only eight  schools to be awarded recognition as a "High Achieving, High Growth  School" by the Northwest Evaluation Association! Our standardized test scores soar above national averages. In addition to a strong tradition of faith‐based education, Holy Cross takes our mission seriously in providing opportunities for all students to have excellent individualized academic growth! We'd love to have you join us.
Learn more about how we support you with great, 
$1000 tuition incentives for all grades, K-8th. 
Preschool and PreKindergarten scholarships are available too!
 Visit: https://holycrossschool.net/tour-holy-cross
PHOTO OR VIDEO STORY – Why do/did you send your children to Holy Cross?  What does this school mean to you?  Did you attend LNMV Area Catholic School and have an alumni success story to share?  We are always looking for families, new and generational that make up our school history, to tell their story!  Send us a photo and two or three sentences about why you love Holy Cross.  We will share these with our current families, alumni, and on social media.  Videos are another great way to tell your story too! You rehearse your lines and we'll do the rest! Send your story to Karen, or contact her to set up a time to do a video.  karenj@holycrossschool.net.
God bless our staff, students, and all families with loving hearts and learning minds, Amen.
We have a YEAR LONG yard sign contest going on – Pick up a Holy Cross sign at any of the church offices or school!
CONTEST #1—All current school families are entered into a chance to win a $50 gift card each month beginning in June for the next 12 months. Here's how it works: 1) Place one of our new Holy Cross signs in your yard. 2) The last day of each month we will draw one current Holy Cross family's name. 3) We will then visit that family's home and if they have our new Holy Cross sign in their yard, that family will win a $50 gift card. 4) Families may win multiple times throughout the year.
CONTEST #2—COMMUNITY FRIENDS All friends of Holy Cross will have a chance to win a $50 gift card each month beginning in June for the next 12 months. Here's how it works: 1) Take a picture of our new Holy Cross sign you see anywhere in the communities and mail the picture, bring to school, or email to info@HolyCrossSchool.net along with your contact information. 2) The last day of each month we will draw one name from those entries received during that month and that person will win a $50 gift card. 3) One entry per person per month. 4) Friends may win multiple times throughout the year. 5) This contest starts over with each new month. 6) Current school families are not eligible for this contest.
We encourage all Holy Cross friends and families to place a sign in your yard to help promote our excellent school!
Visit online at: HolyCrossSchool.net
PLEASE NOTE: There is a new Holy Cross School DROPBOX located in back of Church to deposit your  General Mills Box Tops For Education, Kemps, Land O'Lakes & Milk Moola, Pizza Ranch Box Tabs, and Country Hearth/Village Hearth Bread Loaf UPC's.
"The little ones, the children, the young people will carry society forward by their strength, their youth." —Pope Francis
WEEKLY MASS – During the school year, all are welcome to join the Holy Cross Catholic School community for weekly mass on Wednesday mornings at 8:15 A.M. in the school gym. While we practice our faith each school day, the opportunity to receive the Eucharist together is a special gift. We'll save you a seat!
Our Chapel is open during school hours for all to pray. There is Eucharist Adoration every First Friday of the month during the school year from 9:00AM to 2:00PM.
~ ~ ~
EASY WAYS TO HELP HOLY CROSS SCHOOL:
Box Tops – we earn 10 cents for every label from General Mills products
Kemps, Land O'Lakes & Milk Moola – we receive money for each milk cap
Pizza Ranch Box Tabs –we receive 15 cents per tab!
Country Hearth and Village Hearth Bread Loaf UPC's – we receive 5 cents for each UPC.
Target Red Card – Holy Cross receives a donation directly from Target
Amazon Smile – Shopping with Smile.Amazon.com allows shoppers to choose a charity or non-profit to receive a portion of their sale prices.  Click here for more information, and choose Holy Cross Catholic School in Webster, MN as your charity.
SCRIP – we receive a percentage of the sales of gift cards for participating retailers.  Shop at www.shopwithscrip.com and use the code A526C8DL1325L.  
6100 37TH Street West, Webster, MN. 55088
OFFICE 952-652-6100   FAX 952-652-6102
Dr. Constance L. Krocak, Principal
School Mass Wednesdays during the school year at 8:15 AM