June 7, 2020
The Most Holy Trinity
"God so loved the world that he gave his only Son"
This week we have two more beautiful images of Our Lady representing two special feasts: The Visitation, and Corpus Christi.
The first image is called The Visitation and was painted by Sebastiano Piombo in 1519.  The feast of the Visitation, which falls on May 31st, was skipped this year since that was a Sunday (and Sunday's have priority over feasts).  The Visitation represents Mary traveling to visit and aid her cousin Elizabeth after the Annunciation.  Elizabeth is expecting John the Baptist, and Mary is expecting Jesus.  This beautiful encounter between these two women led to Elizabeth's exclamation of Mary: "Blessed are you among women and blessed is the fruit of your womb!"  To which Mary responds with her beautiful Magnificat.  (See Luke 1)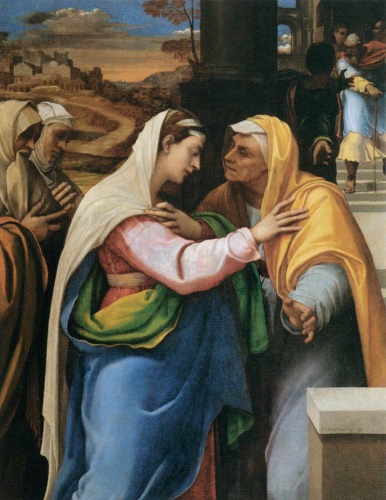 The second image is of Our Lady of the Eucharist.  It is a painting inside the church of Santi Claudio e Andrea dei Borgognoni in Rome.  Next Sunday is the solemnity of Corpus Christi, the Body and Blood of Christ.  We can imagine that after Jesus' ascension into heaven, Our Lady must have had a great devotion to Jesus in the Eucharist.  We pray that we too may grow in our devotion to Jesus in the Eucharist.
You are in my daily prayers,
God bless you,
Fr. VanDenBroeke