MAY 17, 2020
6th Sunday of Easter
We have two more beautiful images of Mary this week.
The first is called The Virgin Adoring the Host by Jean Auguste Dominique Ingres, and was painted in 1852.  This image shows Mary looking with love at the Eucharist as she adores Our Lord.  How very appropriate to highlight a picture like this as we wait in anticipation of our churches opening again soon and our ability to receive Communion again!
The second image is of Our Lady Help of Persecuted Christians.  This image is part of the Marian Prayer Program organized by the Knights of Columbus.  We hosted this "traveling icon" about a year ago here at IC.  This particular image of Our Lady Help of Christians is in honor of the many Christians around the world who are still today persecuted, and even killed, for their faith.  I encourage you to pray for all Christians who are persecuted for their faith.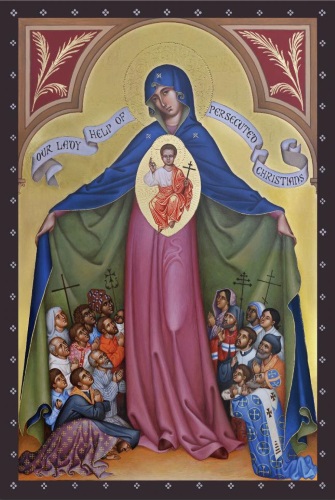 You are in my daily prayers.
God bless you,
Fr. VanDenBroeke