December 8, 2019
2nd Sunday of Advent
 "A voice of one crying out in the desert, Prepare the way of the Lord, make straight his paths."
As we kick off this special Year of Mary, I'm very excited to announce that every week this year I will be sharing one or two pictures of Mary and explaining their history and significance.  I hope this beautiful art will inspire you throughout the coming year!
I hope you are all familiar with these two beautiful images that hang in our church.  Both were donated by parishioners within the last decade.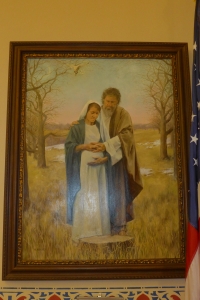 One is a picture of Mary herself, and the other is a picture of Saints Anne and Joachim, the parents of Mary.  "The Immaculate Conception was when Mary was conceived, in the normal way, without original sin in the womb of her mother, Anne.  Mary's Immaculate Conception, when understood properly, brings hope to the world and reveals the quiet unfolding of God's promise and providential plan of salvation." – Fr. Troy Przybilla
Typically, images representing the Immaculate Conception are pictures of Mary herself, as this banner image shows.  The other picture, however, shows St. Anne pregnant with Mary.  This representation speaks to the fact that Mary was created without sin from the very moment of her conception.  Thus, even before Mary was born or became the Mother of God, she was already the Immaculate Conception.
The history and symbolism of the image of Saints Anne and Joachim is written on a plaque just below the image in church.  If you have never read this description, I encourage you to do so!  It is very meaningful and inspiring.
You are in my daily prayers.
God bless you,
Fr. VanDenBroeke